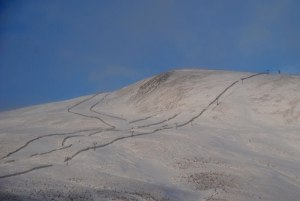 During monday's staff meeting, one of the teacher's said that they were short of staff members for the skiing trip on Wednesday, and if anyone would like to volunteer, it would be greatly appreciated. So being the decent guy I am, I put up my hand. "I guess i'll do it." Ha ha. A day's free skiing? Who wouldn't?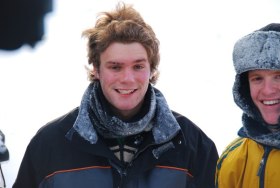 On wednesday, we (myself, joe, the 5th and 6th formers  (about 11-13 yr olds), and a few other staff memebers) got on the bus and travelled to Glenshee ski fields. It's only about an hour away.
We stopped and picked up our skis from the hire shop
 In the morning session, I went skiing with one of the groups and got a feel for the place. After slamming down lunch, i joined the advanced ski group. Little did i know, they are actually the ardvreck ski team, and have been british champions for the last three years! They flew down the craziest runs so fast, with me trailing along behind them, stacking it every once in a while. Needless to say, they would kill me in a race. So when we approached a ski jump, i though i had better regain some respect. ha ha. They all went over the jump (and landed it of course, british champions remember). I waited until they had all gone over, and were all watching, and nailed a massive 180. Well, when i say 'nailed', i mean i did the biggest stack of my life! On of the teachers caught it on camera (below).
My effort at a 180!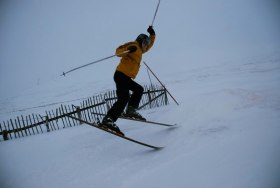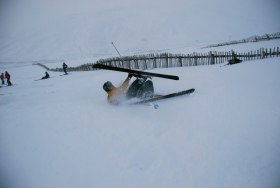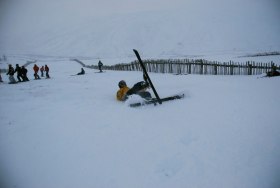 The kids thought it was the maddest – and funniest – thing they'd ever seen. Respect regained! ha ha. Maybe not.
I have a few more pics of the snow to stick on here, but i need to reduce the size first – might take a while. Will be on within the next week.
Mitch.